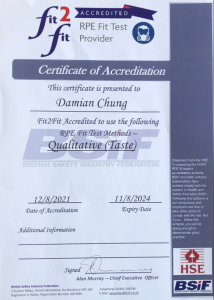 Course FAQ
Yes, on successful completion of the course, you will receive Accredited Certification.
Dependant on the experience of the delegates, depends on the length of the course, however, the course generally lasts between 2 and 4 hours.
Yes, as long as there are adequate class room and welfare facilities available.

Yes, it is! Learn more about it here.

Training Course Dates
FaceFit Bath
FaceFit Birmingham
FaceFit Bradford
FaceFit Cambridge
FaceFit Carlisle
FaceFit Chester
FaceFit Chichester
FaceFit City of London
FaceFit Coventry
FaceFit Derby
FaceFit Durham
FaceFit Edinburgh
FaceFit Ely
FaceFit Glasgow
FaceFit Gloucester
FaceFit Hereford
FaceFit Kingston upon Hull
FaceFit Lancaster
FaceFit Leeds
FaceFit Leicester
FaceFit Lichfield
FaceFit  Lincoln
FaceFit Liverpool
FaceFit Manchester
FaceFit Newcastle upon Tyne
FaceFit Newport
FaceFit Norwich
FaceFit  Nottingham
FaceFit Oxford
FaceFit Peterborough
FaceFit Preston
FaceFit Ripon
FaceFit Salford
FaceFit Salisbury
FaceFit Sheffield
FaceFit St Albans
FaceFit St Davids
FaceFit Stirling
FaceFit Stoke-on-Trent
FaceFit Sunderland
FaceFit Wakefield
FaceFit Wells
FaceFit Westminster
FaceFit Winchester
FaceFit Wolverhampton
FaceFit Worcester
FaceFit York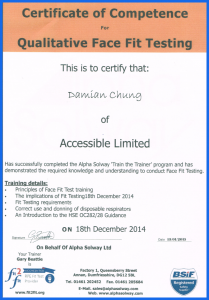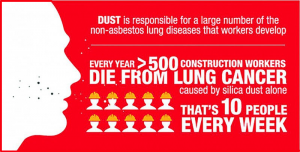 Take The Face Fit Mask Test With Our Expert Face Fit Training
A Face Fit Test will be completed on site with Accessible Ltd with their expert face fit testers around Lancashire and Yorkshire, we will come to site and take care of the face fit testing for your staff. We offer face fit training to the North West, around Lancashire and Yorkshire, and around the UK. We deliver the best face fit test to each operative to make sure you as an employer, comply with current face fit regulatory legislation and that your staffs breathing is protected from work related breathing difficulties.
It is a mandatory legal requirement, under section 7 of the Control of Substances Hazardous to Health Regulations (COSHH) 2002:-
An employer in Lancashire and Yorkshire, you must provide the correct training in the use and care of respirators and Respiratory protective equipment (RPE) and Face Fit Tests in Lancashire and Yorkshire Must be carried out with this equipment.
Many types of industry, during their work process, can generate hazardous substances, resulting in a requirement for Face Fit Training & Testing .
Work activities can result in harmful substances contaminating the air in the form of dust, mist, gas or fume. For example:
Cutting a material such as stone, concrete or wood
Using a liquid containing solvents
Handling  dust and powder
Respiratory Protective Equipment (RPE)
Is designed to protect the wearer from hazards and has to be adequate and suitable to ensure the wearer is protected.
In order to ensure your RPE is adequate and suitable, you must make sure:
Your Staffs RPE fits, and is suitable for the task in hand and fits the wearer
You have arranged Face Fit Tests in Lancashire and Yorkshire for your staff, with the RPE they use and recorded the findings
That the RPE does not interfere with other protective equipment
The Staff are Face Fit trained to wear it and are supervised
Staff follow the manufacturers' instructions for use
The RPE is stored or disposed of, whichever is the case
What is RPE? Find out here.
Accessible Ltd have experienced qualified face fit testers, who will come to your site, and complete Face Fit Tests on your staff and demonstrate how to fit their RPE correctly, so they know and understand, how that mask will feel on their face, when it is correctly fit.
Once the Face Fit training is complete, we will individually Face Fit test each member of staff, with their RPE, we record and document the findings, for your records, in order for you to comply with current best practice and legislation.
Failure to comply with Face Fit Testing legislation, not only puts your staff members, long term health at risk but could have real consequences to your business operations and leave your directors and managers open to a very real risk of prosecution under the corporate manslaughter act 2009, which may result in large fines or prison.
Looking for the face fit testing cost? Get in touch using the form below or call us on 01282 504455 and speak to one of our advisors.
Face Fit Testing Course Details & Costs
Face Fit Testing  Costs.
Call 01282 504455 Now for a quotation.
Discounts available for volume testing, please call.
 Face Fit Testing . – Request a Callback Now: