January 3, 2017
Damian Chung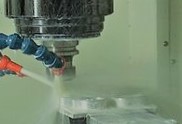 An Uxbridge manufacturer of ejector seats has been fined £800,000 after three workers developed debilitating lung conditions.
Three skilled CNC machine operators developed extrinsic allergic alveolitis after many years of years of exposure to the mist of working metal fluid. The lung condition, also known as hypersensitivity pneumonitis, is a body's allergic reaction to breathing in a substance and symptoms include coughing, shortness of breath and joint pain.
Aylesbury Crown Court heard how the workers, who had served with the company for more than 20 years, were exposed to the working metal fluid mist over at least a three-year period. One worker has been so severely affected they have become virtually paralysed by the illness, another will never be able to work with metal working fluids again, a key material in the industry and a third must have special measures in place to ensure he never comes into contact with the substance.
An investigation by the Health and Safety Executive (HSE) found that the measures in place within the factory to stop the exposure to workers were inadequate. The fluid is commonly used as a lubricant and coolant in engineering processes. During the process of using the machines the fluid creates a mist, which in this case was breathed in by around 60 workers.
Martin Baker Aircraft Company Limited failed to put in place a system of cleaning away the excess fluid or providing extraction to prevent the build-up of the mist. There were also failings in the provision of health surveillance, which should have identified the issue early enough to ensure the company were able to put in place and monitor any appropriate safety measures.
Martin Baker Aircraft Company Limited, Lower Rd, Higher Denham, pleaded guilty to breaching Section 2 (1) of the Health and Safety at Work etc. Act (1974) and Regulation 6(1) of the Control of Substances Hazardous to Health Regulations 2002 (as amended) (COSHH) and were fined £ 800 000 and ordered to pay costs of £36 912.36
HSE Inspector, Stephen Faulkner, said "Companies need to make sure they consider workers' health just as much as their safety when carrying out risk assessments. The dangers of breathing in metal working fluid are well known within the industry. In this case one worker has had his health permanently and severely damaged, two others have also been affected, all will have to live with their condition for the rest of their lives."
The simple application of wearing FFP3 Disposable face masks, with facefit training and testing would almost certainly have stopped these work related long term disabilities occurring and would have protected the health, safety and welfare of their staff, and protected the longevity of the company, after all, who can withstand an £837,000 payout in todays tough commercial world? without it affecting the profits and maybe the remaining workforce?
Call Accessible Ltd for further information or to book some testing and training on facefit
.Source: HSE  http://press.hse.gov.uk/2016